Blue Violet, which debuted in May in Edwardsville, is the latest venture from prolific restaurateur Michael Del Pietro. A full account of Del Pietro's career would risk delaying mention of his new establishment until the final paragraphs of his own review, but his current lineup includes two Sugo's Spaghetteria locations, the Sugo Babbo's Spaghetteria clone, Il Palato and his reinvention of his parents. ' the iconic Del Pietro's. If you don't already know its restaurants, you can still guess the common thread between them.
This is where a simple description of Blue Violet ends. Its menu does not offer pizza, pasta, or Chicken Parm. There's crudo, but it's unlike any version of this familiar dish I've seen before. The kitchen divides the raw tuna between small cups of rice crackers and nudges the supple fish towards creaminess with a touch of herb aioli and a generous grating of salted egg yolk. The spiciness of the crudo is also subtle – surprisingly. Rather than the serrated bite of serrano, jalapeño, or another fresh chile, the cuisine pairs clean, sweet tuna with the smoky, mild heat of ancho chile.
It works brilliantly, much like a spicy mezcal margarita. This is not a comparison I thought I would make at a Michael Del Pietro restaurant.
The move away from Italian or even adjacent Italian cuisine is Blue Violet's biggest change from other Del Pietro restaurants, but it's not the only difference. Del Pietro opened the restaurant in partnership with four of his group's essential employees: Ryan French, Micah Hopkins, chef Pat Baltes, and Jordan Knight, executive chef of Il Palato and CEO of Blue Violet.
French and Hopkins run the front of the house in Blue Violet, though this understates their day-to-day responsibilities. During my visits, I have seen French people greet guests at the entrance, help behind the bar and bring the dishes out of the kitchen. Once he himself jumped behind the line.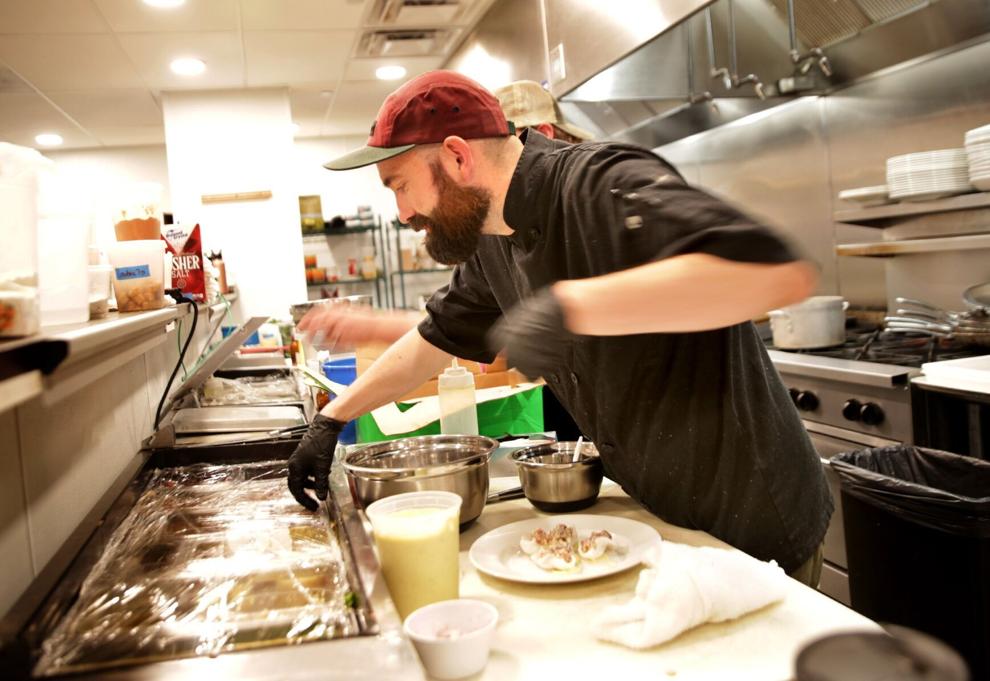 Behind Blue Violet's unremarkable mall storefront is a handsome, modern dining room, with dark blue upholstery against white walls. Unsurprisingly, the decor features a floral theme. (The restaurant's name is the Illinois state flower.)
The space is fine for a night out, and I'd make reservations for a prime weekend table, but the vibe is open and welcoming enough that you could stop in on a whim for dinner. Or maybe you want to sit at the bar with the Double O cocktail, perfect for this summer with its crunchy notes of lime and cucumber, and the plump homemade bacon cheeseburger with both a tangy aioli and jam. fruity and tangy poblano.
So how do you describe the menu at Blue Violet when it's not Italian or even Italian adjacent? Well, some dishes have a nod to the American South, like a piece of sweet, chewy cornbread served in a small skillet and topped with the same poblano jam and corn salsa.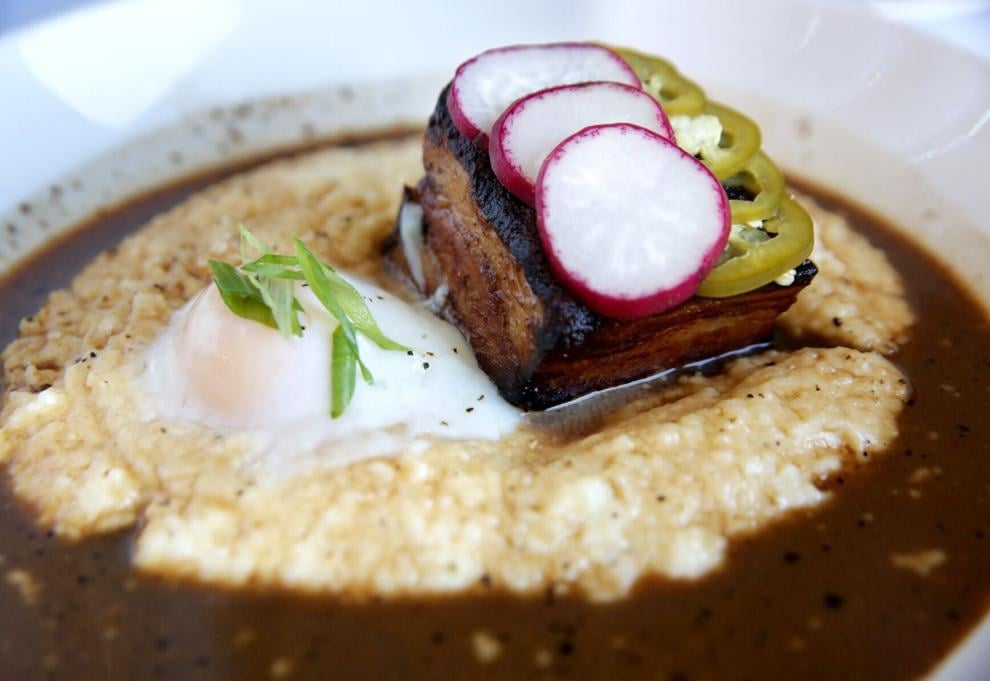 Rocket Pork, a main dish, braises the pork belly in a combination of cola and coffee, the latter from nearby Edwardsville, Goshen Coffee Roasters. The belly rests on a bed of creamy oatmeal in a pool of this braising liquid, with pickled jalapeño and a poached egg. It's a rich dish — downright dizzying once the egg yolk glazes the succulent pork — but every bite of jalapeño or a whisper of coffee bitterness commands your attention.
But Blue Violet can also turn to Southeast Asia, sending a huge cut of prime rib in a green curry sauce. By design, this curry is thin, not creamy, with an invigorating herbal character that cuts through beef as easily as the side of your fork. When the beef and its accompanying rice were gone, I wanted something else to mop up the remaining sauce.
The risk with this approach — in an interview at the opening of Blue Violet, Del Pietro called it contemporary American cuisine with a twist — is that the individual dishes and influences won't be cohesive in an overall picture. Here, however, I don't think a practical description, even something as broad as Contemporary American with a twist, captures the restaurant's appeal.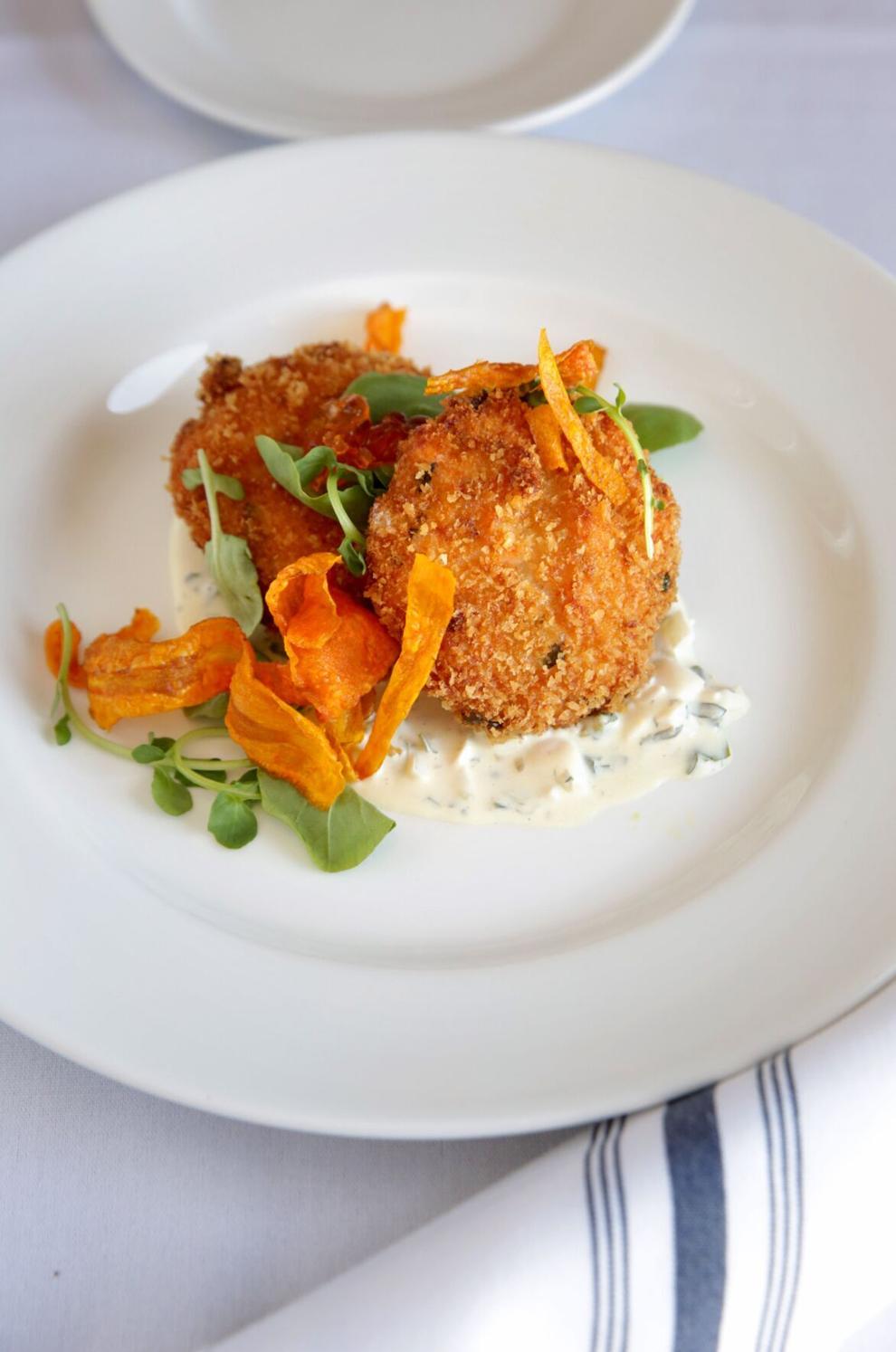 Blue Violet is, forgive me, a vibe. These are dishes that the kitchen team are clearly happy to cook, and it shows on the plate. Salmon nuggets are the dish too many other restaurants want crab cakes to be: crispy nuggets that yield a tender, creamy filling that still tastes like salmon and gives off an unexpected, invigorating heat. These, with a side of refreshing tartar sauce, would suffice, but a clever garnish of salmon roe provides an (literal) extra touch of fishy sweetness.
I rarely rave about cucumbers. Here they are not merely remarkable; they are remarkable. The kitchen marinates them in a marinade solution, chars them on the grill, then dips them back into the solution before serving them chilled. Cucumbers share the plate with lime cream and a tangy hot sauce. It's a crisp and refreshing appetizer, and I want to steal the recipe to accompany grilled steaks in my backyard.
Even the one dish that still doesn't quite work starts with a huge piece of perfectly fried cod, the fish very tender and not at all greasy inside its crispy jacket. It's the BVFC, more fully described as Nashville's Hot Fried Cod. The hot sauce, pooled on the sides of the fish, doesn't approach the melting intensity of the original Prince's Hot Chicken Shack, but it buzzes you with cayenne heat. A pickled coleslaw makes a sensible side, but the intentionally poached fingerling potatoes served at room temperature gradually dip the rest of the dish into their tasteless lukewarmness.
What to expect for dessert? You probably didn't think that an amazingly perfect piece of tres leches cake was a possible answer. Blue Violet may not be the typical restaurant for Michael Del Pietro and his team, but it is the most exciting – and perhaps already the best – yet.
Where Blue Violet, 6108 Shoger Drive, Edwardsville • More information 618-650-9003; bluevioletedwardsville.com • Menu Eclectic contemporary cuisine with global influences • Hours Dinner from Wednesday to Saturday (closed from Sunday to Tuesday)